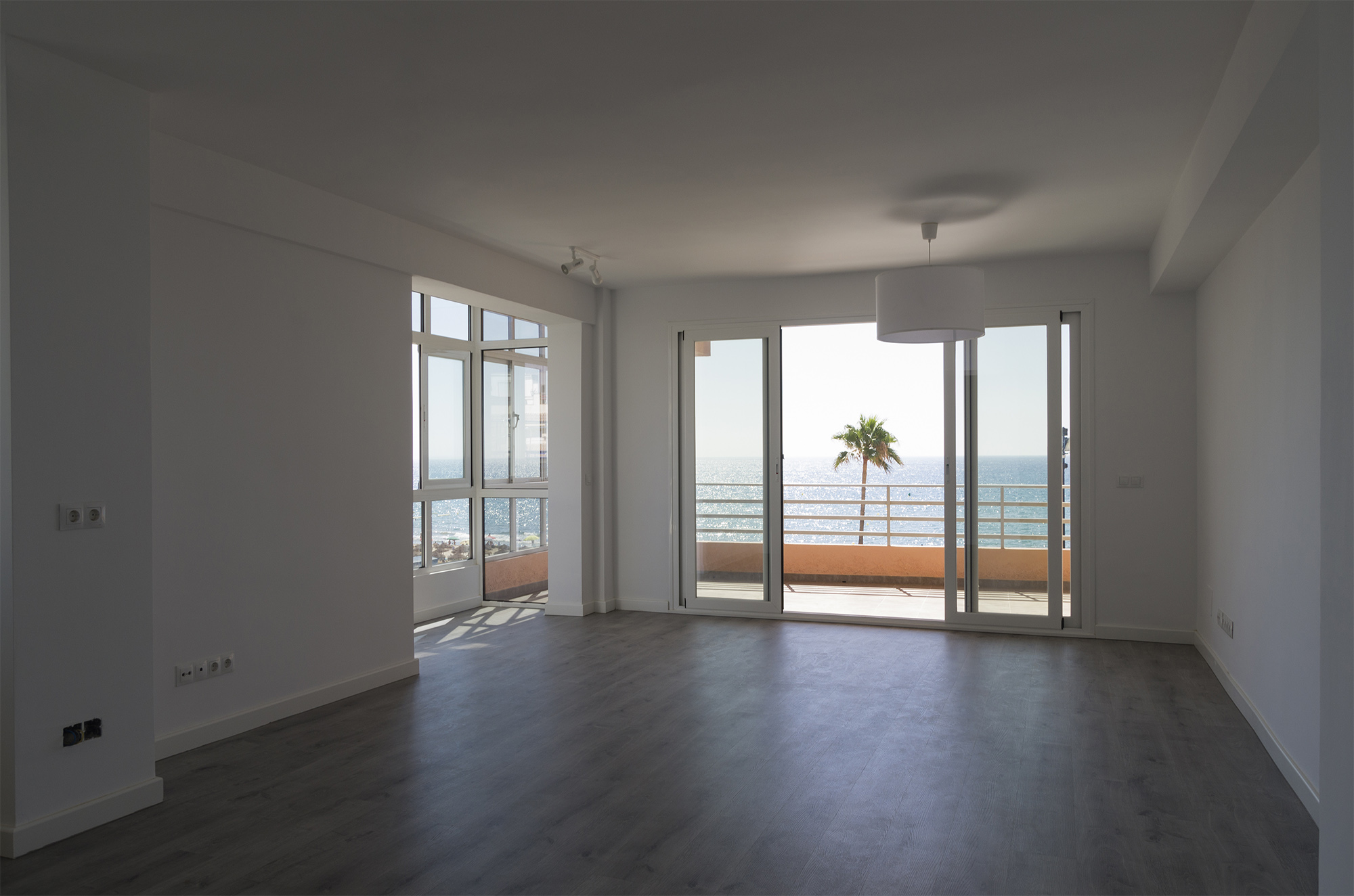 –
APARTMENT RENOVATION ON THE SEAFRONT
Working on the seafront means undoubtedly a challenge, alongside a huge privilege, because of the enormous role of the views and the immediate environment, in order to generate permeable interior spaces but focused on the outside. Therefore, one of the main design goals was to take full advantage of the light, especially in the case of a town like Fuengirola, in the heart of Costa del Sol.
In this sense, the original apartment had a very poor maintenance status, with excessive compartmentalization and the resulting darkness derived from such a complex distribution, despite its prime location. Thus, from the first sketches, we chose to communicate the different spaces, optimizing them in order to maintain two bedrooms and two bathrooms, without renouncing to the terrace, and ensuring that the light would penetrate every corner of the house. This objective leads inevitably to install high quality windows, whose joinery would enable a proper insulation during the most aggressive periods of the year and an important energy saving.
Besides, the use of warm and light-colored materials, results in an elegant, functional and very bright space, which guarantee the privacy of its occupants. Thus, the aforementioned apartment is structured around the terrace as the main source of resources, while the master bedroom, its walk-in closet and bathroom on suite, common bathroom and guest bedroom, take advantage of the side windows, while promoting cross ventilation.
In general, a necessary and well-studied renovation that increase the value of a degraded property, encouraging their strengths and correcting its main defects, according to the customers requirements.
A practical and simple design, intended to enjoy the views derived from a superb location and orientation.
David Melero Herrera
Grupo Hecaserco
Fuengirola Seafront, Malaga (Spain)