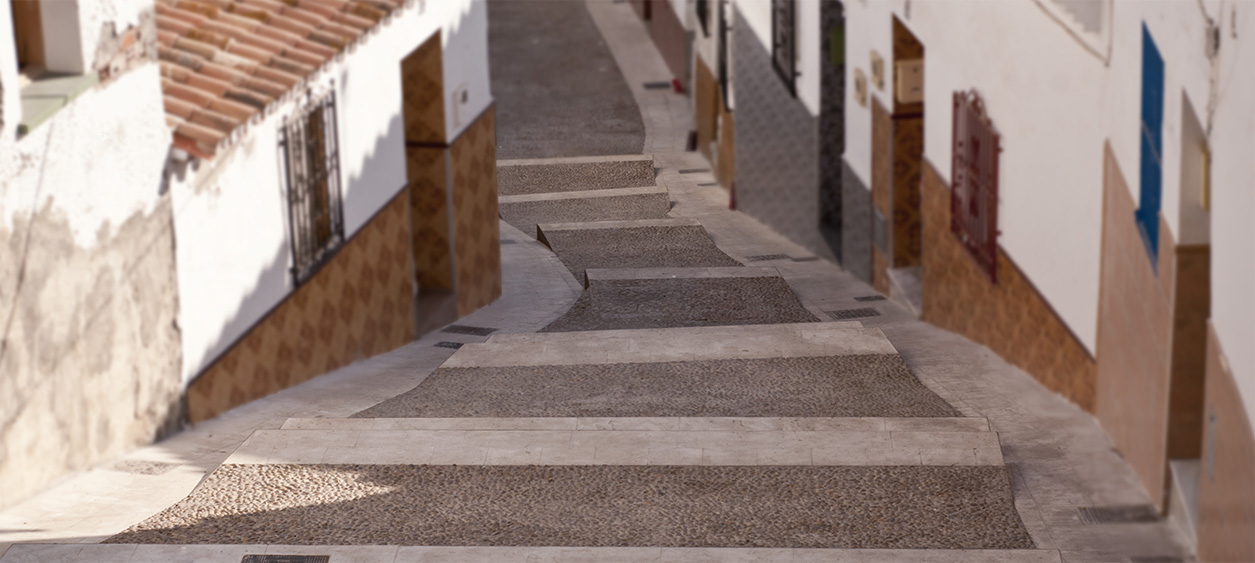 –
Renovation of Calle Real de la Villa
TRADITION AND SHADOWS ON CALLE REAL
Inspired by a traditional image of the neighbourhood "barrio de la Villa", the intervention aims to renovate one of the most important streets in this area with the urban and social commitment to maintain and enhance the historical identity of the place.
The main objective of the project is to improve the landscape of the architectural environment of that area, and particularly in the street "calle Real", through the renovation of pavements, urban furniture and infrastructure services. The works in this street will improve mobility, use and safety, and thus the population quality of life. The project also aims to promote the cultural and architectural identity of this neighbourhood.
The key of this project resides in the simplicity of the design. Based on a few elements, the intervention solves the difference of levels between the start and the ending of the road through simple lines. All those elements are used to highlight the importance of the domestic architecture and the heritage of this ancient Moorish medina.
To create the paving we propose a conceptual discourse based on tradition and innovation using two vernacular materials such as limestone and cobble, selected because of their durability, use and easy maintenance conditions, in contrast to the use of specific elements as Corten steel in the risers of the steps arranged along the street or the tree grates, giving modernity and generating novel landmarks along the ascending path leading to the upper and monumental part of the district.
The difference of levels along the path, will be adapted to the accessibility regional and local regulations, as part of social commitment acquired by this studio.
To complete the renovation of the street and ensure the safety and welfare of the citizens, we will enhance the existing lighting and held the burial of public infrastructure, removing the existing overhead multiple network wiring, trying to highlight the architecture value.
The result is a subtle and ambitious intervention that get the original identity of the street back, dominated by shaded horizontal lines under the influence of natural light.
Antonio José Galisteo Espartero
Álvaro Fernández Navarro
Guillermo Mateos Frutos. Arquitecto técnico
María del Carmen León Ruiz (ingeniero de caminos). Dirección de obra
Ayuntamiento de Vélez-Málaga
GANA Arquitectura
Blanca Green
Exhibition Ciclo Presencias, promoted by Malaga Board of Architects.