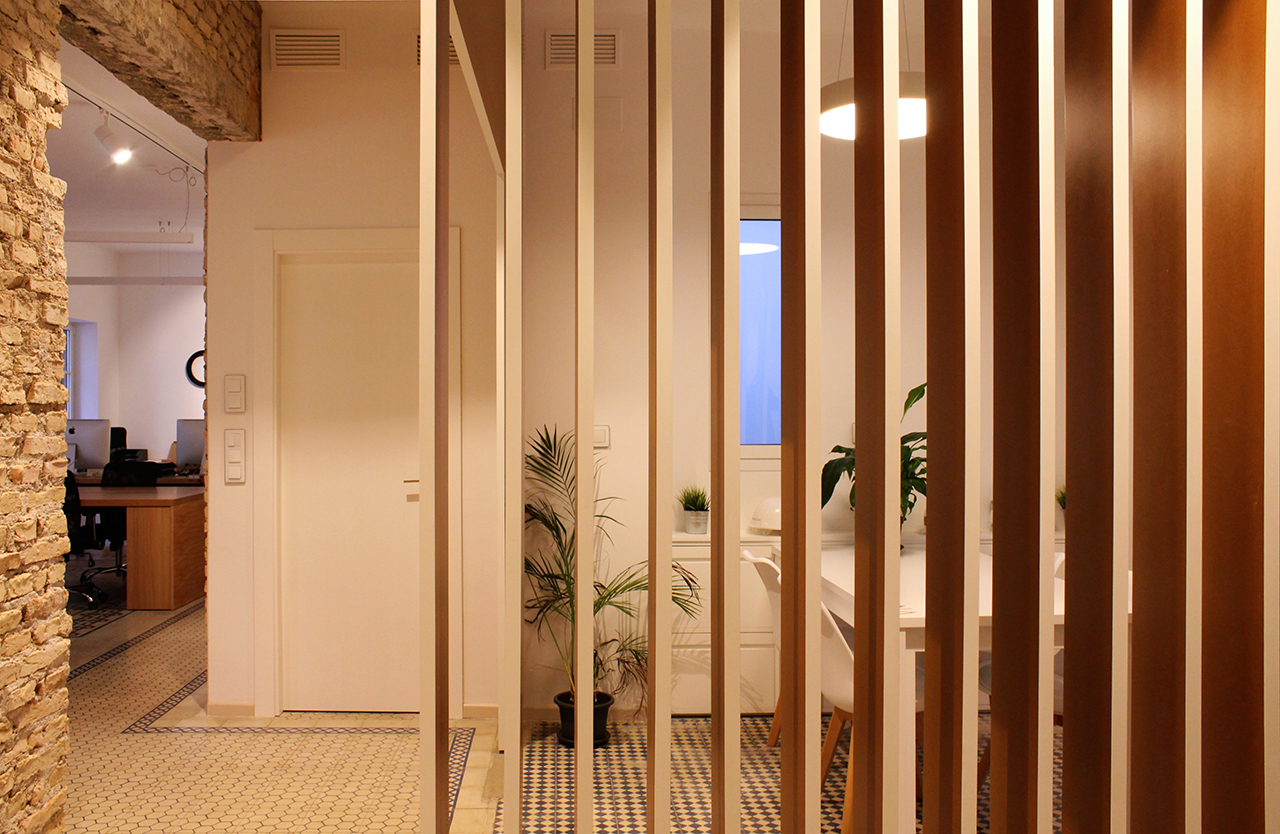 –
REHABILITATION FOR THE NEW HEADQUARTERS OF GANA | MÁLAGA
Anytime you have to design a place to work, able to communicate its company philosophy and foster its activity development, is an atractive and difficult challenge; but if this office is going to be your new headquarters, this challenge gets huge and powerful.
For us, this project for GANA's new headquarters emerged full of ideas and illusion, based on a place with great location and possibilities. Features as the traditional flooring tiles from the 30's, views to Santiago's church, or the access from Alcazabilla street, make of this project a valuable opportunity. Thus, the key of this design is to empower the existing elements, as an oposition to the contemporary elements required for the activity itself.
From a perspective of simplicity, the former house was transformed into an open space, where geometry and some simple elements, organize the room and adapt it to the office needed by the company. That's the reason why we prefer not to modify or refurbish the flooring tiles, enhalting the former walls with new lines made of concrete. The original rooms are conceived as carpets made of different tiles patterns that organize the working areas, the different itineraries and connections, while empowering the history of this place. Besides, the whole furniture is specially designed and customized for our needs, according to the smart, clean and functional atmosphere of the office we wanted to create.
Details as the glass wall that close the meeting room, the wooden lattice that creates the access, or the air conditioning metallic installation, are used to enhance the supporting wall of the building that has been uncovered in order to show the original bricks and foster the identity of this office.
A very simple and honest project, where we tried to find the difficult balance between the old and new elements in order to create a high quality working area.
Antonio José Galisteo Espartero
Álvaro Fernández Navarro
Francisco Jesús Camacho Gómez
David Melero Herrera. Architect.
María García Ostos. Architect.
Marta Sevillano Díez del Corral. Architect.
Lea Delval. Student.
Augustyna Cybrowska. Student.
HERECU
KRITEC
Calle Alcazabilla 9, 1D. Malaga.