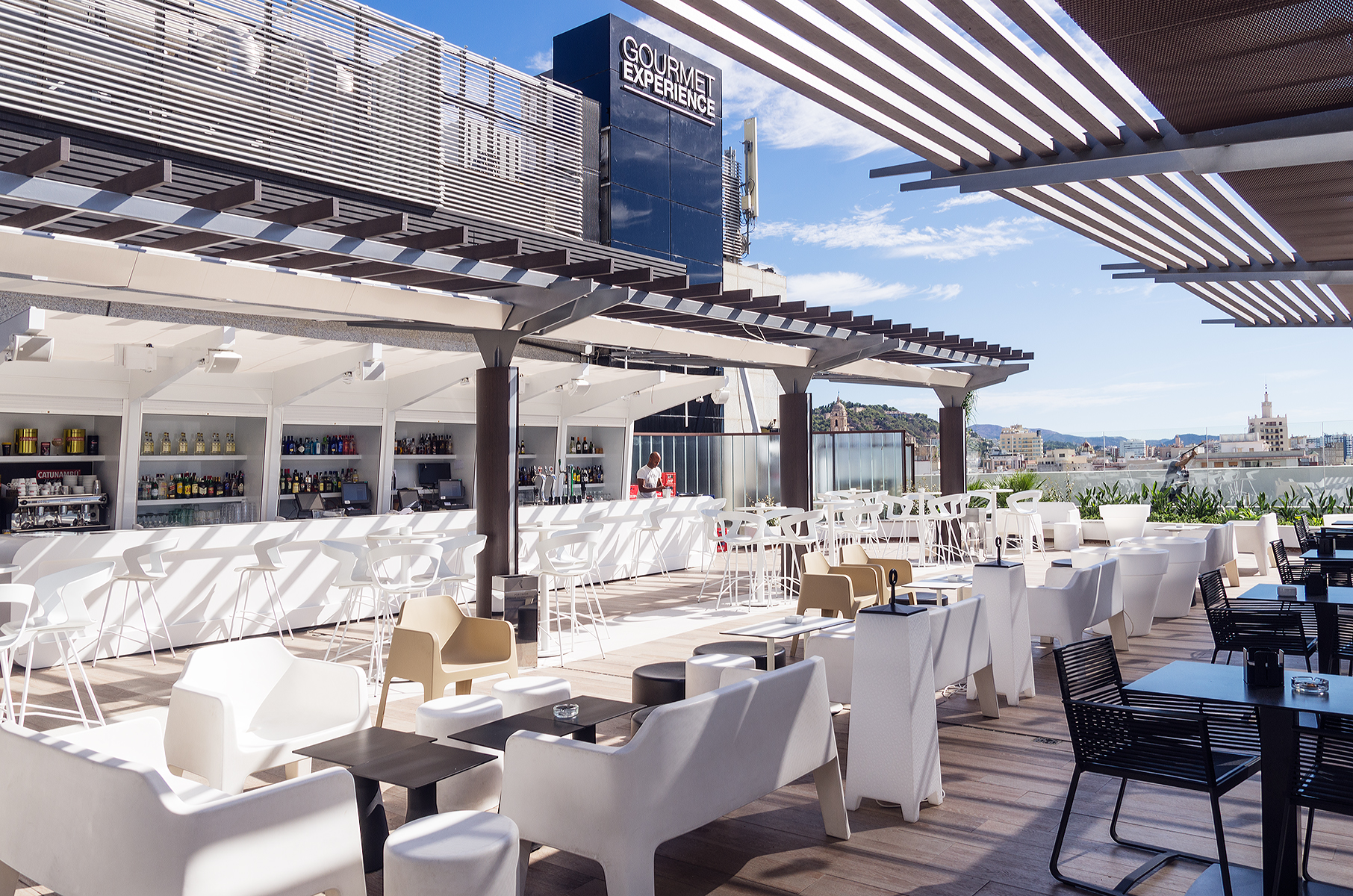 –
LA TERRAZA LOB AT GOURMET EXPERIENCE EL CORTE INGLÉS
During the renovation works done in El Corte Ingles in order to change the sixth floor of this well-known mall centre into one of their national gourmet spaces, Gourmet Experience Malaga, we were asked to create the outside bar at the terrace.
La Terraza Lob is conceived as a modern and functional element, which offer customers the perfect complement to the gastronomic proposal generated inside. Therefore, its attractive and inspiring aesthetic is just the result of the functional requirements associated with this type of space. Hence, the design is formed by two different elements, the main one that includes the customers bar, working areas and facilities; and, on the other hand, the rear element that contains drink storage and shelves, a textile roof over the workspace, sound system and decorative lighting.
Structurally, it is a project based on cantilever porticoes anchored to the building structure, making it simple but also with a recognizable aesthetic "TAC type" of identical ribs that are repeated according to a well studied rhythm. Thus, it is understood as a great backdrop within the terrace which serve all customers, as well as participates in the urban environment that surrounds it, in which Malaga Cathedral stands on the skyline of the city.
Aspects such as protection against climate, or security requirements associated with this type of facility, generate a more opaque version during periods of inactivity, while it gets fully opened for daily activity. An independent and self-sufficient element in perfect harmony with its context, despite the obvious significance required for this kind of service.
Antonio José Galisteo Espartero
Álvaro Fernández Navarro
Francisco Jesús Camacho Gómez
David Melero Herrera
Grupo Hecaserco
Ikono Soluciones
Avenida Andalucia, Malaga, Spain