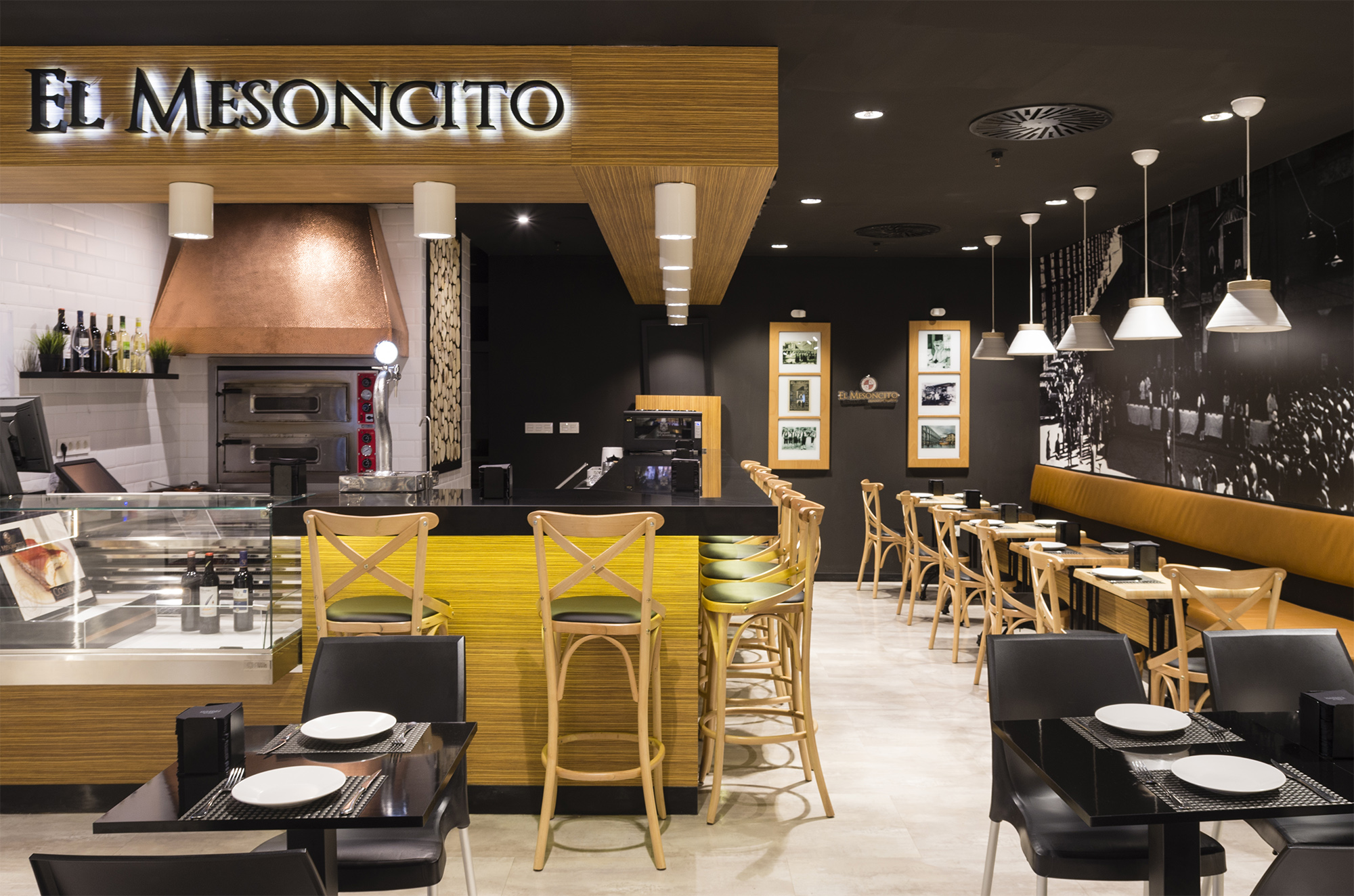 –
EL MESONCITO AT GOURMET EXPERIENCE EL CORTE INGLES
As part of the works done in El Corte Ingles Malaga in order to renovate the fifth floor of this popular shopping center as one of its gastronomic spaces, Gourmet Experience Malaga; an area of restoration specialized in roasted suckling pig was created.
Inspired by the traditional Segovian cuisine, this space is conceived as a cozy and elegant rotisserie, where evoke the essence of its elaborated cuisine. Therefore, one of the main challenges encountered in the Mesoncito project was the design and optimization effort undertaken when concentrating the industrial kitchen of a Segovian restaurant in such a small space. A very functional and optimized work area, whose communications, workflows and storage spaces are concentrated in order to maximize the area for visitors.
A stunning historical image of the aqueduct acts as the amazing background for the dining room, where the use of a varied and well selected lighting, its optimized and functional paths, as well as an elegant and comfortable furniture; offer visitors the opportunity of enjoying delicious tastes directly taken from the oven, as one of the main elements of this design.
A unique opportunity to automatically move to Castilian lands, but enjoying the unbeatable weather of Malaga. Everything controled by a nice bar service where interact not only with its products but with the preparation of the main product of this new gastronomic reference in Malaga.
Antonio José Galisteo Espartero
Álvaro Fernández Navarro
Francisco Jesús Camacho Gómez
David Melero Herrera
Sofía Ramiro
Grupo Hecaserco
Afryma
Aireco
PRS
La Fabbrica
Avenida Andalucia, Malaga, Spain