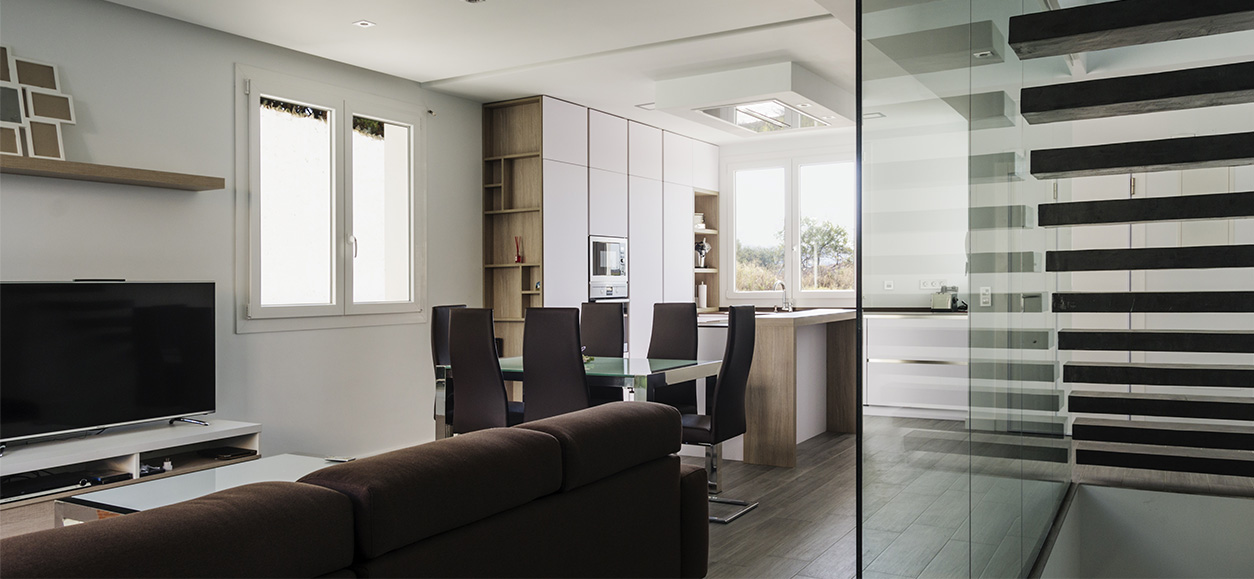 –
House in Puerto de la Torre
TOWNHOME IN MÁLAGA
The design of this house is based on a very narrow and rectangular plot, semi-detached, with a quite limited area in where to build, due to urban planning conditions.
With this context, the project is conceived as a prism that is perforated in order to generate access paths and achieve proper lighting and ventilation, without compromising the privacy of its users. The purity of its volumes is transferred to materials and colours, looking for an elegant and simple image able to provide identity to this design.
Its functionality emerges as the main character of this project, with a distribution based on flexible and open spaces that contribute to optimize areas around the floating linear stairs, as the most symbolic element of the house. A simple gesture to fill the interior, while the upper terrace allows light to penetrate and provide special lighting to the corridors. Thus, not only the chimney effect is enhanced, but also the light is maximized for a house of this kind. Besides, this access to the roof let the house enjoy amazing views and a natural solarium.
The different floors are organized around a core of communications and toilets, wich serves a large open space that upstairs needed to be separated into several rooms, according to clients requirements.
Finally, the backyard has been created as a natural extension of the living room, in order to increase the indoor-outdoor connections, while the front area is defined as a parking lot and an atractive pedestrian access.
Antonio Galisteo
Álvaro Fernández Navarro
Francisco Camacho Gómez
Adrián Delgado Moreno
Juan Francisco Mata Díaz
Tania Maldonado Sánchez
Puerto de la Torre, Málaga
Blanca Green
GANA Arquitectura