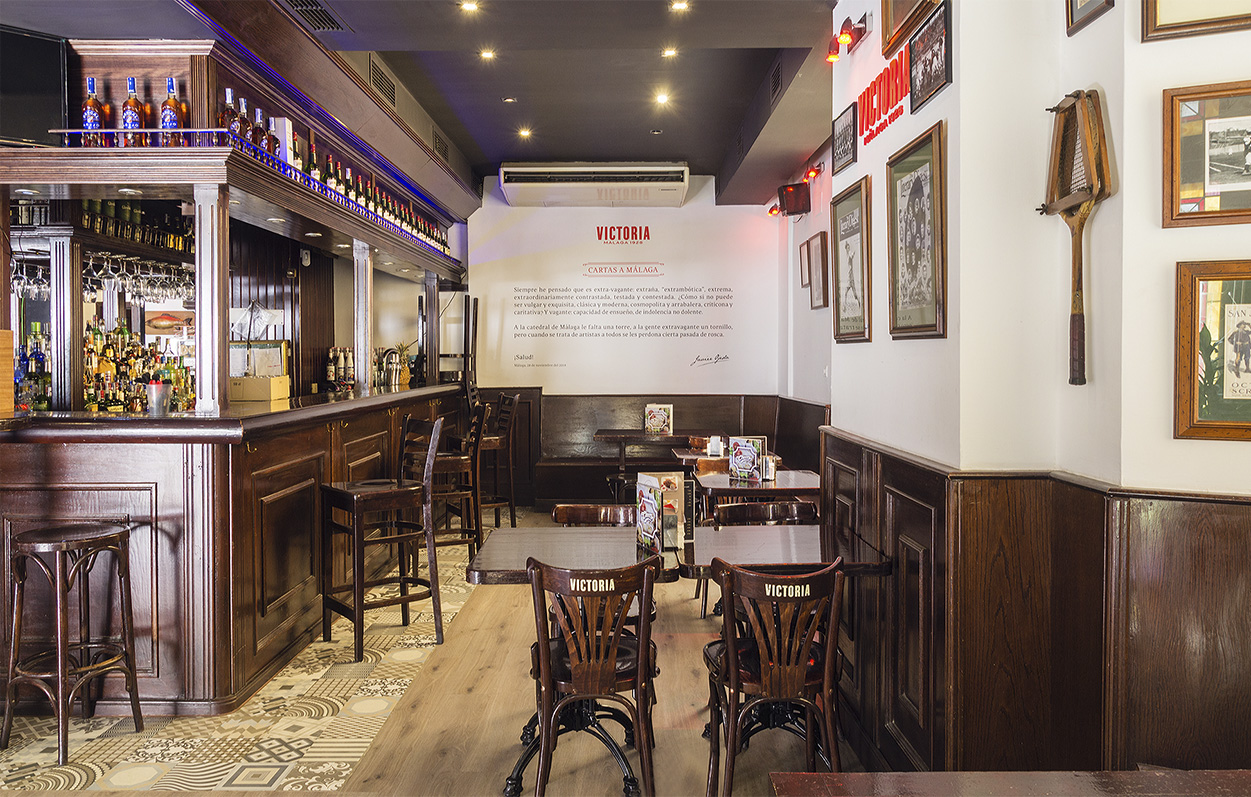 –
Renovation of Cheers Malaga Bar
The project for the renovation of this emblematic bar of the capital, was created from the very beginning as an holistic reform able to renew its image without compromising its essence. Features such as its unbeatable location, facing the Malaga Cathedral in Plaza del Obispo, or the special place acquired over the years in citizen minds, help this design to became a real challenge and an unique opportunity to participate in this wonderful city and its citizens.
One of the main keys of the reform was to decide to keep the original name and work with it through a new conceptualization. Instead of focusing the design on the legendary TV bar that inspired the original design, it was decided to open the approach to the meaning of the word itself, valuing the idea of toast, joy and happiness that represents this everyday expression.
To that end, it was fundamental to optimize the interior space through the change of materials and walls, also promoting the opening to users of the different areas designed. This aim was based on the need of getting the success and aesthetic previously raised on the terrace, in order to make inside spaces more spacious, attractive and light. A nod to the Mediterranean climate and the fundamental power of light.
Thus, the bar is designed from the concept of the encounter between the traditional and the modern, through a brewery where wood is the main material, because of its warmth and closeness. This contrast of styles is perceived through the conservation of the original bar, as a reference of its identity, but introducing the parametric wall, specially designed for this renovation. This item comes from beer as the guideline for the idea, providing a more welcoming and exclusive dining area that endows the bar of a new emblem.
Contrasts as the use of aged wood flooring facing the modern hydraulic tiles used in the zoning of spaces. A contemporary and subtle terrace in front of the historical heritage of the city. A very ornate corner versus the simplicity of the literary space, designed to honour the city and this bar as part of its recent history, giving voice to local artists, as an example of creativity, art and culture.
A new cultural landmark in the city that foster substance and personality of this catering industry benchmark in Malaga.
After all, this architectural discourse has combined our ideas with the brilliant contribution of the communication specialist Doctor Watson, the millimeter precision of iKono, and professionalism of the entire Hecaserco construction team. Everything thanks to the efforts of the owners and Cerveza Victoria, as the main collaborators.
A team that has managed to bring greater value to the project and turn this challenge into an unforgettable reality.
Antonio Galisteo
Álvaro Fernández Navarro
Francisco Camacho Gómez
Cerveza Victoria
Doctor Watson